COVID-19 Community Update: Mitchell Shire to enter Stage 3 lockdowns from midnight TOMORROW, NSW border closures, Victoria records highest case numbers in a single day
07 July 2020
As of tomorrow night, Euroa will be officially divided.
 
The Victorian Government is putting Mitchell Shire residents, along with all of Melbourne, into stage 3 lockdown for the next six weeks.
 
Restrictions remain unchanged for residents across the rest of the electorate, including people living in Strathbogie, Benalla, Campaspe, Shepparton and Greater Bendigo.
 
WHAT IT MEANS IF YOU LIVE IN MITCHELL SHIRE
The Victorian Government's orders mean that from 11.59pm tomorrow, Mitchell Shire residents must stay at home except for:
Shopping for food and essential items
Medical and caregiving
Work and study – if you cannot do it from home
Exercise BUT you cannot leave Mitchell Shire.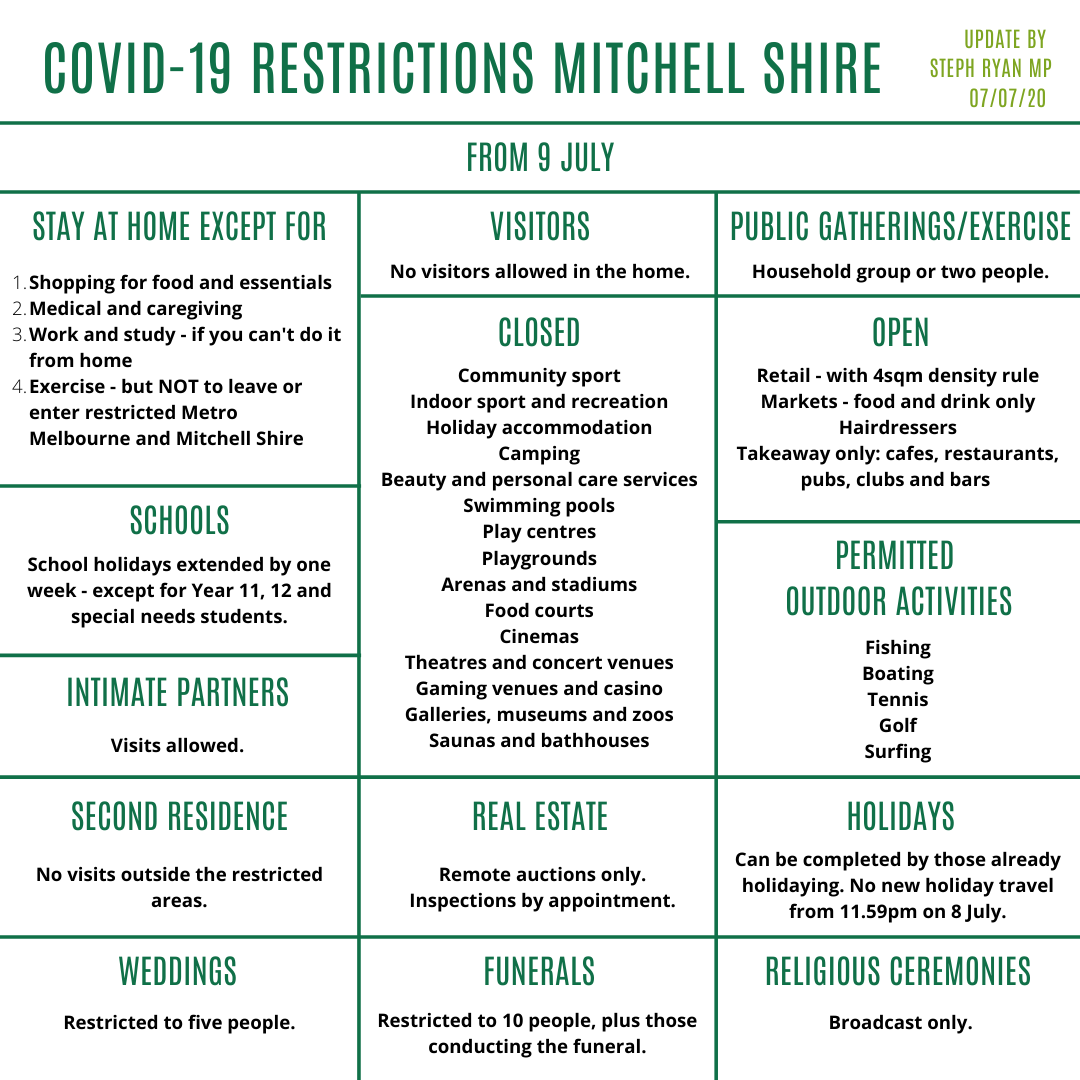 SCHOOL DATES FOR MITCHELL STUDENTS
Year 11, 12 and special school students in Mitchell will go back to Term 3 next week as planned, however school holidays will now be extended for one week for students in Prep to Year 10.
 
The government says a return to remote learning for these students is a possibility.
 
CONFIRMED COVID-19 CASES
Victoria has today recorded 191 new cases of COVID-19, the highest single day increase since the pandemic started. There are now 772 active cases in Victoria.
 
As of 7am this morning, there were five active cases in the Mitchell Shire, one in Greater Shepparton and one in Greater Bendigo.
 
I have received a number calls and emails from Mitchell Shire residents about what postcode or town the Mitchell cases are in. Unfortunately the Department of Health does not provide this information so we are unable to say which part of the LGA is most impacted.
 
I have asked the Andrews Government to provide postcode-based data for Mitchell so residents can understand which communities are impacted.



 Since the virus was first recorded in Victoria, our region has seen the following case numbers:



 
 
NSW BORDER RESTRICTIONS
NSW will close its border to all Victorian residents from midnight tonight. This closure is expected to remain in place for several weeks.
 
I understand that the NSW Government's official health orders will be available sometime later today. Until then, this is what we know: border crossings are being patrolled by NSW Police and Australian Defence Force personnel and drones will be used to monitor the river. People can receive penalties of up to $11,000 and six months in jail if they seek to cross illegally.
 
EXEMPTIONS
Exemptions exist for people entering NSW:
for medical or other care;
to fulfil a legal obligation or give effect to a court order;
to provide an essential service.
 
What does NSW deem to be an essential service?
 
Under NSW law, essential services include:
emergency services;
freight and logistics;
the maintenance and repair of critical infrastructure;
health services;
law enforcement;
Commonwealth defence and security services.
 
OBTAINING A PERMIT
If you need to travel from Victoria to NSW for one of the reasons above, you need to obtain a COVID-19 NSW border declaration permit.
 
When the system is up and running, permits can be obtained through Service NSW here. To speak with someone directly, phone 13 77 88.
 
Permits may take several days to obtain. If you need to travel but you strike technical difficulties or delays in obtaining a permit over the next few days, you will need to explain your situation to police at the border.
 
BORDER TOWNS 
Residents from border towns such as Albury-Wodonga and Echuca-Moama will be treated differently.
 
If you live in the "border bubble", i.e. your postcode is in the border town area, you will be able to cross the border, however you will need to obtain a single exemption that will then cover you for the duration of the lockdown. Further details on what postcodes are covered by this "bubble" are expected later today.
 
VICTORIANS CURRENTLY IN NSW
If you are currently in NSW or have family or friends from Victoria travelling in NSW, they will be able to return to Victoria.
 
Please keep an eye on the Service NSW website.
 
NSW RESIDENTS RETURNING FROM VICTORIA
From midnight, NSW residents returning home from Victoria will also be required to self-isolate for 14 days (this currently only applies to NSW travelling from the Greater Melbourne area).
 
This means once they arrive at their place of residence or suitable accommodation, they must not leave the residence or place except:
to obtain medical care of medical supplies;
to comply with a legal obligation;
in an emergency;
to provide an essential service;
to leave NSW by a direct route.
 
TESTING LOCATIONS
People are being asked to seek advice and get tested if they have any of the symptoms of coronavirus (COVID-19), however mild. Watch out for any of the following symptoms:
fever
chills or sweats
cough
sore throat
shortness of breath
runny nose
loss of sense of smell or taste

In certain circumstances headache, muscle soreness, stuffy nose, nausea, vomiting and diarrhea may also be considered.

A self assessment tool is available here.

Locally, testing is taking place at the following locations: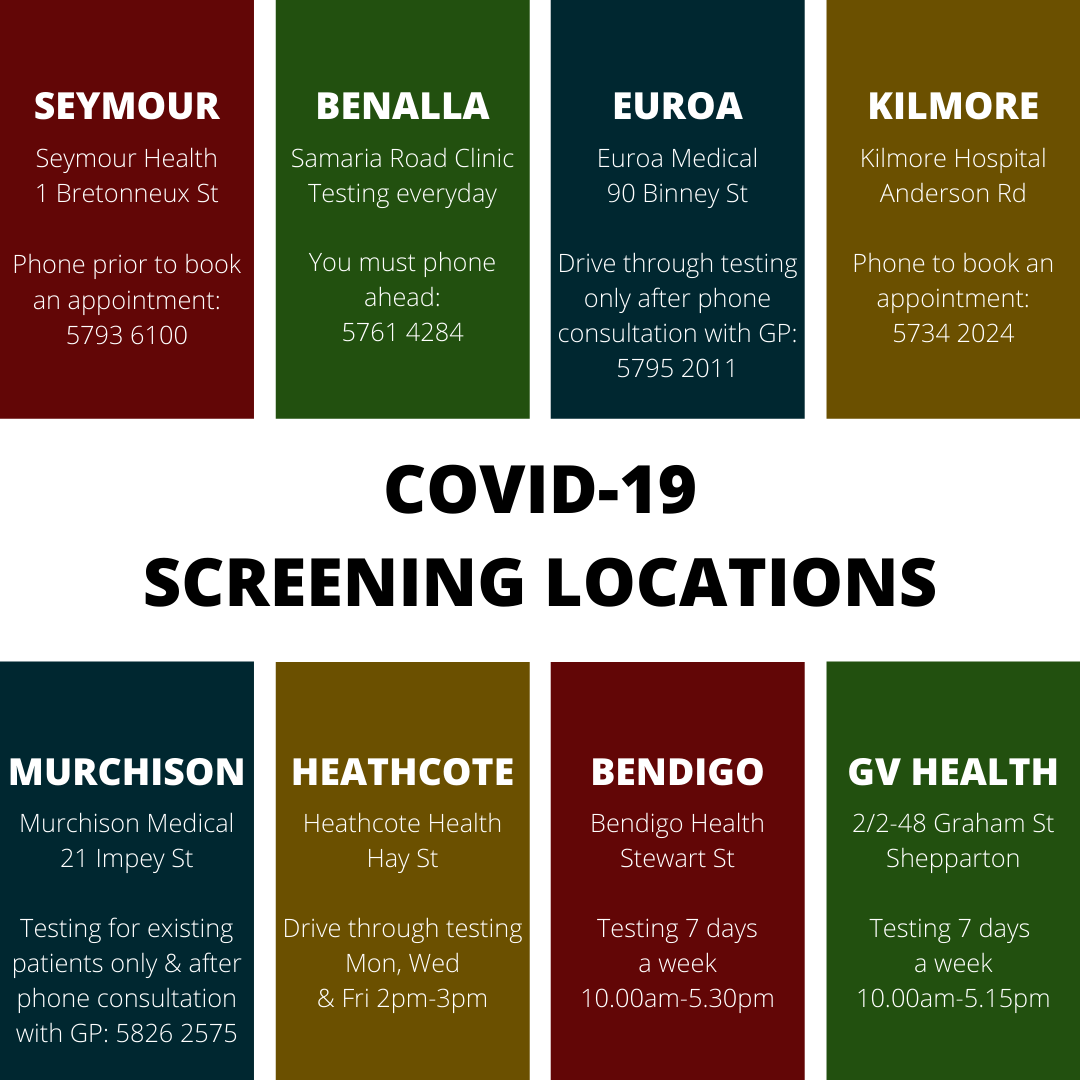 MENTAL HEALTH SUPPORT
This is a really stressful time for many people. If you're feeling anxious, down, or just not yourself, there are a number of free mental health services and resources available which might help.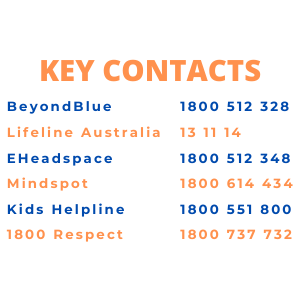 Beyond Blue also have a number of incredible tailored resources for:
 
OFFICE HOURS
My little team is working flat out to get answers as you bring your questions about restrictions and closures to us.
 
Please understand that we are sometimes forced to triage inquires to deal with those that are most urgent but we are working as quickly as we can to provide information as it comes to hand.
 
If you have any queries, please don't hesitate to phone on 5762 1600 or email [email protected].
 
Together we can make a difference
Help build a better Euroa
Volunteer Now